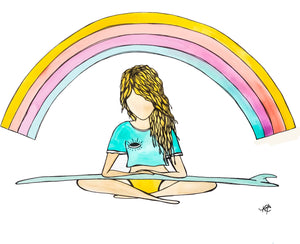 "Embrace the Ebb & Flow" 
Just like water, our minds can ebb & flow, some days are glassy, clean, and calm, others are stormy, choppy, and all over the place. It has been a daily practice for me to embrace the ebb and flow of it all. A daily practice to find peace in the chaos. The ocean continues to teach me so much about myself and my mind. The ability to constantly overcome fears, adapt in all conditions, push your limits, these all translate on land and I'm so grateful for the constant lessons.
 .
.
The Slow Down Collection is inspired by slowing down and finding meditative practices in all the moments that bring us joy; truly tapping in to the richness of life we are surrounded by. My goal with this collection is to bring peace, joy, and inspire you to never stop building your life around the things that you love.
All prints are matted and signed. Available in 8x10, 11x14, and 16x20 (size includes mat). ** Frame Not Included